Good morning, I'm Dan Gartland. Markquis Nowell is my new favorite basketball player.
In today's SI:AM:
🏀 Women's Sweet 16 predictions
🏙️ Markquis Nowell's hometown moment
If you're reading this on SI.com, you can sign up to get this free newsletter in your inbox each weekday at SI.com/newsletters.
Now it's the women's turn
A quick word of warning before the women's Sweet 16 gets underway today: The schedule is different from the men's. Instead of playing overlapping games in prime time, each of the eight women's games played between today and tomorrow will get their own time slot, beginning at 2:30 p.m. ET today and 11:30 a.m. ET tomorrow.
Today's four games are, in order of start time: No. 4 Villanova vs. No. 9 Miami (2:30 p.m. ET), No. 2 Utah vs. No. 3 LSU (5 p.m. ET), No. 2 Iowa vs. No. 6 Colorado (7:30 p.m. ET) and No. 5 Louisville vs. No. 8 Ole Miss (10 p.m. ET). All four games are on ESPN. Here's what to watch out for this weekend in the women's bracket.
The underdogs
The women's tournament has been reasonably chalky this year. Tomorrow's action features two 1 vs. 4 and two 2 vs. 3 games, but the two teams responsible for eliminating No. 1 seeds—Miami (over Indiana) and Ole Miss (over Stanford)—are in action today.
The Hurricanes will have their hands full against the nation's leading scorer, Villanova's Maddy Siegrist. Not only is she averaging 29.2 points per game, but she also hasn't scored fewer than 21 in any game this season. The Wildcats are also as hot as any team in the country, having won 21 of their last 24 games, with all three losses coming against UConn. The Hurricanes played a great game against Indiana in Monday's upset, but a repeat performance will be tough. Clare Brennan believes Villanova will prevail, writing that "with the way Siegrist is playing, it's hard to envision this Villanova side going down ahead of the Elite Eight."
Ole Miss has a better chance of pulling off an upset and advancing to its first Elite Eight since 2007. The Rebels have an excellent defense (ranked 20th in the country in points allowed per game) that was able to hold Stanford to just 49 points in Sunday's upset. (The Cardinal averaged 76.1 points per game this season, 27th in the nation.) Louisville and star guard Hailey Van Lith will be a tough out, but Ole Miss has what it takes to pull off another upset.
Another No. 1 seed at risk
We've already seen two 1-seeds go down and, if the oddsmakers are to be believed, we could very well see another go down tomorrow. Undefeated South Carolina looks safe against UCLA (the Gamecocks are heavy favorites), but various oddsmakers have declared tomorrow's matchup between No. 1 Virginia Tech vs. No. 4 Tennessee a virtual toss-up. The Hokies have had their best season ever. This is the first time they're seeded higher than fourth in the NCAA tournament and only the second time in program history that they've reached the Sweet 16. The team that beat them in that lone Sweet 16 game in 1999? Tennessee.
Virginia Tech got through the first two rounds without much trouble, smothering No. 16 Chattanooga, 58–33, and keeping No. 9 South Dakota State at an arm's length, 72–60. Tennessee, meanwhile, pummeled its first two opponents. The Vols won 95–50 against No. 13 Saint Louis and 94–47 against No. 12 Toledo.
UConn's Final Four streak
A Tennessee win could set up a classic showdown in the Elite Eight. UConn, which faces Ohio State on Saturday, is seeking to make its 15th Final Four in a row. It's been a tough year for the Huskies, who were forced to play without former National Player of the Year Paige Bueckers after she tore her ACL before the season and also missed Azzi Fudd for two months with a knee injury. But Fudd is back now and scored 22 points in the Huskies' second-round win over Baylor. It's no sure thing that the streak will continue, but Fudd's return at least gives UConn a better chance of keeping it intact.
Iowa's shot at redemption
Caitlin Clark has been among the best players in the country since she stepped on the floor as a freshman but hasn't been able to lead the Hawkeyes deep into the NCAA tournament. Now, as a junior, she has her best chance yet to reach a Final Four.

Iowa earned a 2-seed last year but was upset by No. 10 Creighton in the second round. The Hawkeyes are fortunate this year, though, that the three other highest-seeded teams in their region (No. 1 Stanford, No. 3 Duke and No. 4 Texas) have already been eliminated, making their path to their first Final Four in 30 years clearer. Iowa will face No. 6 Colorado tonight at 7:30 p.m. ET, with the winner of that game facing the winner of Ole Miss–Louisville.
The best of Sports Illustrated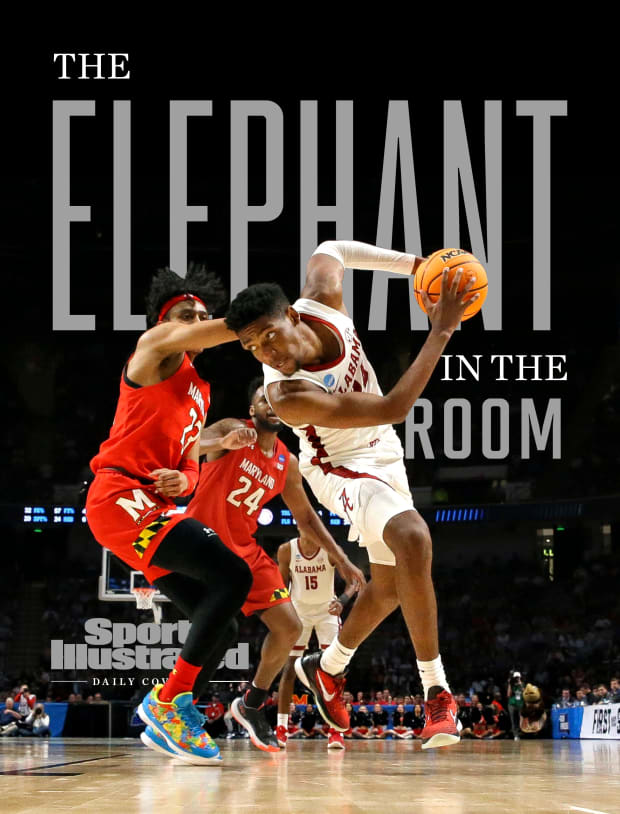 The top five...
… plays from last night's men's Sweet 16 (and one bonus cricket play):
5. A nice layup high off the glass by FAU's Michael Forrest.
4. Tristen Newton's three from the logo for UConn.
3. This off-balance three by Kansas State's Markquis Nowell.
2. Julian Strawther's deep three to give Gonzaga the win over UCLA.
1. Nowell's perfect lob to Keyontae Johnson to give the Wildcats the lead late in overtime. It looked like Nowell and K-State coach Jerome Tang fooled Michigan State with some misdirection, but Tang explained later that it was just a heads-up play by Nowell.
Bonus cricket play: I guarantee you'll find these announcers' uproarious laughter contagious after a player got hit in the crotch.
SIQ
Former Colts kicker Mike Vanderjagt, who was born on this day in 1970, is one of the most accurate kickers in NFL history, but it took him a while to break into the league. Which team gave Vanderjagt his first consistent professional playing time?
Toronto Argonauts
Barcelona Dragons
New York/New Jersey Hitmen
Iowa Barnstormers
Check Monday's newsletter for the answer.
Yesterday's SIQ: A brawl between which two teams on March 23, 1993, led the NBA to strengthen its rules against fighting?
Nets and Pacers
Heat and Pistons
Lakers and Kings
Knicks and Suns
Answer: Knicks and Suns. The fight began when Kevin Johnson leveled Doc Rivers with a hard screen. Rivers went after Johnson, leading to a benches-clearing brawl. Six players were ejected, including Knicks guard Greg Anthony, who was not in uniform but came off the bench to punch Johnson. The NBA suspended a record 21 players and fined them a combined $160,500 as a result of the fight.
About a month later, on the eve of the playoffs, the NBA announced it was stiffening its rules against fighting. Previously, the league drew a distinction between throwing a punch and actually connecting with one, allowing players to avoid punishment if their punches didn't land. But the new rules stated that any player who threw a punch, regardless of whether they made contact, would be automatically ejected and suspended from the next game. Additionally, the fine for players leaving the bench to enter a fight was increased from $500 to $2,500, and if players left the bench to join a fight, their team would be fined $5,000. The rule changes were an attempt to alter the league's violent reputation—and it worked. Fighting is far less common in the NBA today.