Forty names, games, teams and minutiae making news in college football (stadium lights sold separately in Fresno)
Second Quarter: It's getting late early
Their seasons are going poorly. Are they salvageable? It depends what level of salvage is considered acceptable.
Florida (12) has put two dispiriting, never-close losses around that stirring victory over Tennessee. The Gators are a bad road team (0–2, outscored by 32 points, trailed by double digits at halftime of both). They've now lost three straight to former punching bag Kentucky, giving up 280 rushing yards to a single human (Ray Davis) Saturday. Their defense has produced just a single turnover. The school that won national titles with the innovating offenses of Steve Spurrier and Urban Meyer hasn't scored 30 points against FBS competition yet this year.
And then there are the special teams. Dear lord what a mess. Second-year coach Billy Napier has what is listed as a "GameChanger coordinator" on the staff page. His name is Chris Couch, and he's an analyst who works with special teams. The only game-changing his unit has done this season has been swinging games in favor of the opponent.
Florida has put Notre Dame to shame in terms of having the wrong number of players on the field (including 13 defenders on one snap against Kentucky, in which the Wildcats still scored). Most of the personnel snafus have come on special teams, where Florida has not gone through a game yet without a penalty, a botched kick or having too few men on the field. The GameChanger against Kentucky: a leaping penalty that nullified a Wildcats punt and gave them a first down. On the next play, Davis went 75 yards for a touchdown to make it 16–0 and the game was essentially over.
The Gators are hoping that Napier can be their version of Texas' Steve Sarkisian—that after taking over a blueblood in disarray, he can build toward a breakthrough. Sark went from 5–7 to 8–5, with his quarterback in place for Year Three, a good defense and a star receiver. So far, the third year has been the payoff: Texas is 5–0 and ranked No. 3 in the nation.
Napier went 6–7 last season and is a flailing 3–2 in Year Two. There is an opportunity to get to 5–2 heading into the Cocktail Party game against Georgia, which often has been a house of horrors for the Gators in recent years. But this Bulldogs team isn't the same as the past two. After that a closing stretch of Arkansas, at LSU, at Missouri and Florida State looms.
Napier needs to follow Sark's trajectory and produce a winning season, then work the portal for continued talent upgrades to go along with what at the moment is a top-five freshman class for '24. This was never billed as a quick fix, and it hasn't been. But Year Two needs to set up a big Year Three for Napier, or there won't be a Year Four.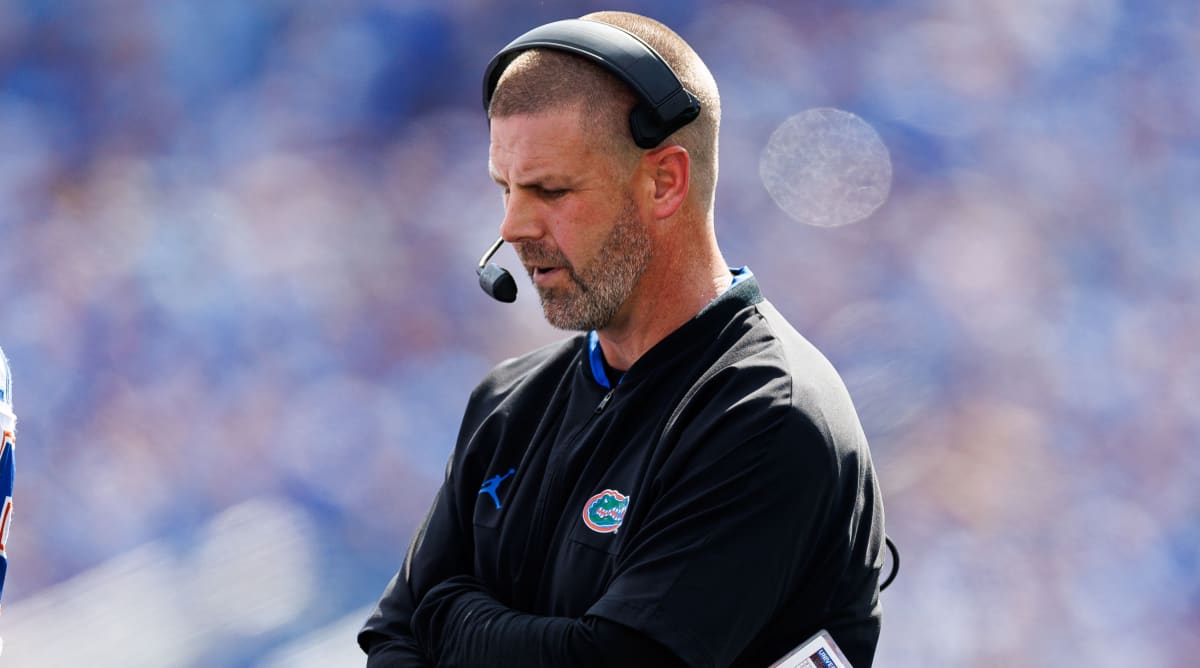 Nebraska (13). The beleaguered Corn People are so beaten down that they'd take a bowl game, any bowl game, after not playing in one since 2016. With a 2–3 record and winless against power-conference competition, that modest goal might still be too much to ask.
Then again, the Cornhuskers do play in the vast expanse of mediocrity known as the Big Ten West, where performances seem to be generated at random from week to week. Even as bad as Nebraska is, it wouldn't be a shock to see it win the next four games (at Illinois, Northwestern, Purdue, at Michigan State). Nor would it be a shock to see it lose all four. Somewhere in between is most likely, which would keep the bowl quest up in the air going into a closing stretch of Maryland, Wisconsin and Iowa.
First-year coach Matt Rhule hitched his wagon to the wrong quarterback (Georgia Tech transfer Jeff Sims), saw incumbent starter Casey Thompson transfer out and now is trying to make it work with Heinrich Haarberg, a former three-star recruit in 2021 whose scholarship offers primarily came from the lower echelon of FBS. He hasn't been bad so far, but the Huskers could use an upgrade from "not bad." That might have to wait until 2024.
Illinois (14). The Nebraska-Illinois game Saturday could say a lot about whether either team goes bowling. One of Bret Bielema's immediate successes as coach of the Illini was beating Scott Frost twice in a row, helping establish his credibility in Champaign. But this season the Illini are regressing, with a 2–3 record and all three losses by double digits.
Losing at Kansas by 11? Not great, but the Jayhawks are now a solid program. Losing to Penn State by 17? It happens. But being shredded by Purdue 44–19? That's bad.
This figured to be a slight rebuilding year for Bielema after losing four standouts to the NFL draft and defensive coordinator Ryan Walters (now the head coach of the Boilermakers). Instead, it's taking on the tenor of a major rebuild. And the Big Ten is going to become significantly harder next year with four quality programs arriving.
Pittsburgh (15). Just when you think Pat Narduzzi has built a consistent winner, the bottom falls out on the Panthers. They're 1–4 with the only victory over FCS Wofford, and, frankly, every loss has gotten worse. They followed a home upset against Cincinnati with a painful Backyard Brawl defeat, then were easily dispatched by North Carolina and shockingly routed by a bad Virginia Tech.
For weeks, the big lament among fans was quarterback play, which was justified. But Virginia Tech just put up season highs in points (38) and yards (427) on the Pitt defense. So it's a multi-system failure at this point. The Panthers' string of four straight winning seasons is in jeopardy with several difficult games still to come.
Three-fourths of the Big 12 newcomers (16). Any hopes that the arrivals of BYU, Central Florida, Cincinnati and Houston would immediately upgrade the conference's overall quality are not bearing out. They're a combined 1–7 in league play, with the lone win coming via newcomer-on-newcomer crime: BYU beat Cincy on Saturday.
UCF'a most notable Big 12 moments came in blowing a 28-point second-half lead at home to Baylor—then keeping hoping alive in the final minute with a completely ridiculous fourth-down conversion by quarterback Timmy McClain. Houston had a chance to beat Texas Tech on Saturday, but its special teams gave up a 100-yard kickoff return and a blocked punt for a touchdown. The Cougars (4–1) should have the best shot at making an impact on the league race.
Indiana (17). Tom Allen went to the Embattled Coach Playbook on Sunday and fired offensive coordinator Walt Bell, whose unit is keeping sketchy company at the bottom of the Big Ten's total offense stats with Northwestern and Iowa. (When you only score 17 in regulation against Akron and it takes four overtimes to win, there are issues.)
After going 14–7 in 2019 and '20, Indiana figured it had its guy and invested heavily in Allen—including a pricey buyout. The record since then: 8–21, including 2–3 this year. This is a hard job in the threshing machine that is the Big Ten East—but it's also a place where you can be paid well and keep your job for simply being competitive. If Allen needs six or more wins, he might have to beat Rutgers, Illinois, Michigan State and Purdue to get there.
Arkansas (18). Much like Bielema at Illinois, the two-season arc for Sam Pittman was all love and optimism. He got the program up off the floor in year one, went 9–4 in year two, got a fat contract extension … and since then has been in decline. The Razorbacks went 7–6 last year after a 3–0 start, and they're 2–3 this season—winless against Power Five competition.
The annual Arlington donnybrook with Texas A&M was more of an Aggie walkover this year. The Hogs' dynamic duo of quarterback KJ Jefferson and running back Raheim Sanders hasn't fully gotten going, due to injury for Sanders and a lack of running productivity by Jefferson.
In the SEC West, if you slip a little you could slip a lot. Arkansas has one foot on a banana peel right now.
Oklahoma State (19). What do South Alabama and Iowa State have in common? They each have a win over an FBS opponent, and it's Mike Gundy's Cowboys. Oklahoma State is 2–2 and coming off an open date in which it had a lot to figure out.
The Pokes have played three quarterbacks while ranking last in the Big 12 in pass efficiency and yards per attempt. Conversely, they are the worst in the Big 12 in pass efficiency defense, having intercepted just 1 of 120 passes thrown against them. After years of winning, Gundy is 9–8 since the 2021 season; is his heart still in this gig?
San Diego State (20). The Aztecs are enduring their first four-game losing streak in five years after a 2–0 start. The schedule has been difficult—UCLA, Oregon State, Boise State and undefeated Air Force—but clearly SDSU has slipped from its customary perch near the top of the Mountain West. They're 9–10 between last year and this season. Brady Hoke, never much of an offensive maestro, has an open date to tinker with that unit before heading into a manageable run of opponents. The Aztecs haven't had a losing season since 2009; they've got work to do to avoid it.