Screenwriter Tim Kelleher sat down at the Hollywood headquarters of what was then—in the mid-1990s—TriStar Pictures. A group of studio suits were there, serving up a half-baked pitch for an underdog sports tale. "They wanted to do a movie with Billy Crystal and the NBA," Kelleher says.
Pondering plotlines, Kelleher remembered a commercial he had seen featuring the famed fishmongers from Seattle's Pike Place Market as they flung whole salmon from 50 feet away and landed them smack atop the weighing scale. "So I was like, What if the guy worked at a fish place, and he could hit a full-court basketball shot because he was so good at throwing fish?" Kelleher says. "But that just didn't seem logistically possible. Defenders would be right on him."
Not long after, Kelleher was getting lunch with his mentor, writer-producer Greg Fields, when talk turned to the subject of his TriStar sit-down—specifically, how Kelleher was struggling to find a more practical professional sporting specialty for his average-Joe lead character. "I was telling him about the story," Kelleher says. "And he goes, 'How about a field goal kicker?'"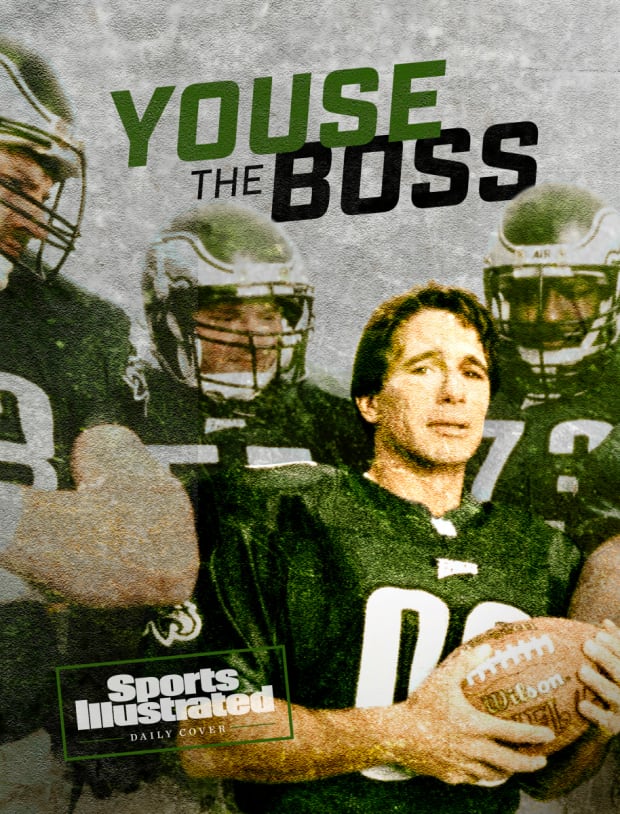 Debuting to a national television audience on Feb. 15, 1998, the result of this conversation largely landed as a cinematic footnote at the end of a decade-long golden age of kids' sports movies: The Sandlot, Space Jam, Rookie of the Year and The Mighty Ducks trilogy, to name a few. But The Garbage Picking Field Goal Kicking Philadelphia Phenomenon stood apart in two notable—if contrasting—ways. First, it had easily the shortest run time, at a crisp 78 minutes. And, second, it boasted what a Hollywood Reporter review described as "​​one of the longest titles in TV movie history," a ridiculous, rambling eight words, 18 syllables and 55 letters (yet, exhaustingly, no hyphens or commas).
The script is no less silly, centering on a schlubby Philadelphia sanitation worker named Barney Gorman, played by a still-in-his-prime Tony Danza, who develops near-superhuman strength in his right leg from repeatedly kicking a sticky hydraulic lever on his garbage truck. He subsequently signs a contract with the Eagles after a front-office executive (Julie Stewart), while scouting potential stadium sites for the team's new owner, serendipitously sees him booting some empty water jugs at the dump. "It's a public relations goldmine," the executive eagerly declares. "The field-goal-kicking garbage man!"
The gamble pays off in the movie as Gorman, taking his kicks straight on while donning a calf-high workman's boot, wins over his initially skeptical teammates and coaches; earns a sponsorship with a trash bag manufacturer; and appears on Sports Illustrated (cover line: "The Eagle Has Landed.") A humbling fall from grace ensues when Gorman gets cut by the Eagles after blowing two critical field goals in a loss to the Giants, gets thrown out of the house by his wife (Jessica Tuck) after a photo of another woman planting a surprise kiss on his lips at a bar appears on A1 of the local paper and gets chased away from his favorite diner by a mob of effigy-burning Eagles fans. But, in the end, Gorman finds both personal and professional redemption, begging his way back onto the roster for the regular-season finale, delivering a dramatic halftime speech and, pressed into replacement duty after accidentally concussing the team's usual starting kicker with a celebratory headbutt, scooping up a botched snap and scoring the game-winning touchdown before retiring from football for good.
In real life, The Garbage Picking Field Goal Kicking Philadelphia Phenomenon was far from a ratings bonanza then. It barely even seems to resonate now; even the dozen-plus cast and crew members contacted for this story universally expressed surprise when responding to interview requests. As veteran actor Barclay Hope, who played the concussed starting kicker, put it: "What ever possessed you to do an article on … what is it? How does it go?"
Shovel past the breathless, Chris Berman–esque title, though, and a number of hidden production gems are revealed, from actual broadcasters (including Berman and Dan Dierdorf) making on-screen cameos as themselves, to a still-current NFL owner and a then-future NFL kicker playing critical behind-the-scenes roles, to dozens more professional players appearing in a lineup of (given the budget) surprisingly realistic live-action football scenes.
And so, with real kicker Jake Elliott and his real Eagles teammates set to face the Chiefs in Super Bowl LVII on Sunday, three days before the 25th anniversary of the movie's original airing, there's no better time to revisit The Garbage Picking Field Goal Kicking Philadelphia Phenomenon, with an oral history as unnecessarily long as its title.
---
In their first draft, Kelleher and Fields imagined a feature-length picture with a different lead actor—and a different flavor—than the family-friendly, G-rated flick it ultimately became. "In our minds it was Bill Murray, and it was PG-13," Kelleher says. "It looked encouraging for a week, but it didn't close [with TriStar]."
Time passed as the project floated in Hollywood purgatory, its script reworked, its rights bought and then relinquished by Touchstone. "I had another job rewriting a Chris Farley movie, so I pitched him the idea," Kelleher says. "He was kind of lukewarm."
Then, finally, salvation arrived when Kelleher received a call from ABC's The Wonderful World of Disney in early 1997— a year and a half after the latter had bought the former and, along with it, ESPN—wondering if, instead of making the movie for his ask of $30 million over 45 days, he did it for $3 million in 20 days. Kelleher agreed. Production began that summer.
TIM KELLEHER (writer/director): The NFL was on board. They loved the whole thing. They thought it portrayed [the league] in a positive way. Or, not a negative light, at least.

JESSICA TUCK (Marie Gorman, Barney's wife): Just seeing the title, my first reaction was, "Seriously? This is crazy."

TONY DANZA (Barney Gorman): I've always joked, "How would you like to have that on your résumé?"

FRED STOLLER (Larry): I still never get it right.

DANZA: The title went through some incarnations.

KELLEHER: Our original one was My Right Foot. My agent was like, It sounds like you're making fun of My Left Foot. So then we called it The G-Man, which was the main character's nickname. But Disney's objection was that people might think it's an FBI movie.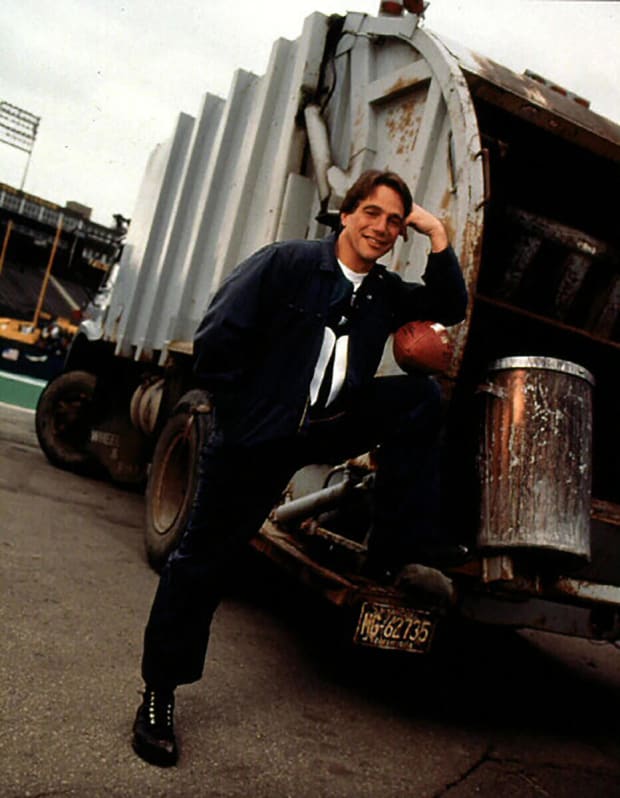 DANILO DI JULIO (Dallas Cowboy #49): One of the working titles was From Garbage to Gridiron.

KELLEHER: We also called it Untitled Tony Danza Project on set. And then Disney had a contest to name the movie amongst their employees, and this is the name they picked. They asked me what I thought, and I told them, "I like Untitled Tony Danza Project better."

ANTHONY RICHMOND (cinematographer): I think the title is insanely crazy, but it seemed to work.

GEORGE PLOSZCZANSKY (football coordinator/technical advisor/stunt double): It kind of depicted the whole movie in those words—football, Philadelphia and someone who turns the tide for a team that hasn't contended in a long time.

KELLEHER: Initially we wanted to do the Bears, but it was around when the Bears were actually threatening to leave Chicago, before they redid Soldier Field. So the Bears didn't want to do it.

RICHMOND: Then we got the help of Jeffrey Lurie, the owner of the Eagles.

KELLEHER: He'd produced some movies before that and agreed.

RICHMOND: He let us use some footage from [Philadelphia] games.
DANZA: Lurie was a big booster of it. He even had a line.
KELLEHER: He's one of the customers in the diner [in a scene just after Danza's character has been signed by the Eagles] and he goes, "This new Eagles owner must be a good guy!" That was brown-nosing at its finest.
DANZA: [Lurie] loved it.
KELLEHER: We had a really great cast. The waitress at the diner, in the beginning, is a woman named Karen Robinson, and she's on Schitt's Creek. Fred Stoller [formerly of Seinfeld], such a great character actor.

STOLLER: I was excited because as a kid, The Wonderful World of Disney was my childhood.

BARCLAY HOPE (Mitchell, Eagles kicker): I figured, "A football movie? That sounds like fun."

TUCK: I liked that it was a funny, sweet family movie with some nice messages. And I'd always been a fan of Tony Danza.

DANZA: I was getting a bunch of scripts at that point in my career, and a lot of these TV movies. When I saw this, I immediately wanted to do it because of my father.

KELLEHER: Joe Roth, who was the head of Disney at the time, had produced Angels in the Outfield. And he might've known Tony's dad was a garbage man.
DANZA: New York City, baby. I was a kid in PS 171, on Lincoln and Ridgewood in East New York in Brooklyn. He would work right by the school and used to drop me off in his truck.

KELLEHER: It was such a passion project for him. It was a love letter to his dad.

HOPE: I honestly thought this wasn't gonna go anywhere, just because of the stupid title.
---
STOLLER: My first day was taking out garbage, so right away I go, This is gonna be fun.

HAMILTON: The garbage dump stank like hell.

KELLEHER: The shooting schedule was six days a week in Toronto.

JASON BLICKER (Peter Gorman, Barney's brother): Some stuff was filmed on location in a neighborhood, like Tony Danza's house.

KELLEHER: But we did the game sequences at Ivor Wynne Stadium [in Hamilton, Ont., then home of the Canadian Football League's Tiger-Cats].
HOPE: As a sports fan, it was cool to step on a major league field, even if it was the CFL.

BRANKO RACKI (stunt coordinator/Danza's double): Then we had some college fields for practice [scenes].

KELLEHER: It was ambitious, but we shot five games of action, and then practices.

RICHMOND: Football is pretty easy to shoot, because all you need is three cameras—one behind the quarterback, one on the side, one up high—and you get all the players.

KELLEHER: The first day, it was a practice, and I had all my shots lined up, and then there were like two guys. So they put out a casting call. Then by the afternoon we had enough people to make it.
BLICKER: They brought a lot of these ex-professional players. Some of them were giant. And they were all polite gentlemen.

DI JULIO: I was playing semipro football [for the Oakville (Ont.) Longhorns] and heard about it through the guys on the team. I went to Ivor Wynne to check it out and they were like, "Yeah, sure, we could use another."

BLICKER: I was amazed at their talent, and how guys that big could move so fluidly. Even though we were making a movie, those guys took it seriously.

DI JULIO: You'd go down there, they had the home and away locker rooms to change in. Our pads would be on racks outside. Get them on, go on the field.

PLOSZCZANSKY: Coordination was easy because the players all enjoyed being there. We had plays drawn up on playsheets that I'd go through.
DI JULIO: I'm in the movie a bunch of times, wearing a bunch of different uniforms, because they had us rotating through teams. Most of the days I was No. 49, which was awesome, because that was my walk-on number at Syracuse.

RACKI: There's a play [from a scene at an Eagles practice] where they hike the ball, and the offensive line just lets the defense come through and tackle [Danza's character]. We did one take, and I got up and said, "That wasn't so bad." One of the guys turns around to me and said, "That wasn't that bad?"

PLOSZCZANSKY: The whole Oakville Longhorn defensive line took him out the second time.

RACKI: I thought a semi truck hit me, but I shut my mouth. They were like, "How was that, buddy? Was that so bad?"

HOPE: Three 300-pound guys landed on top of him, and he came out wobbling.
RACKI: Want to know how I earned their respect? I had to do this thing where Danza's standing on a blocking sled and gets hit. I had a wire that was hooked up to what we call an accelerator—basically this ratchet that pulls you—so when he hit it, I went flying back about 30 feet. And all the ballplayers came up to me and went, "Wow, that's gnarly!"

PLOSZCZANSKY: We had one guy, [former Cowboys and Toronto Argonauts offensive tackle] Chris Schultz. We had a background performer try to hit him, and his finger got up underneath his pad, and Chris gave him a bullrush block and dislocated his finger.

RACKI: The middle linebacker, he stuffed his helmet right into my bicep. I couldn't play golf for two weeks.

HOPE: At one point we were rehearsing an onside kick. There was this kid standing next to me, so I turned to him and said, "I don't know what to do as a kicker after I kick the ball. Can I block you?" He just looks at me and says, "Yeah. I'd like that."

DANZA: It was scary. because they made noise and they screamed.
HOPE: Just to be on the field with guys like Chris Schultz, getting decked out in Eagles gear—we had all the real Philadelphia stuff, the real f---ing compression shorts, the whole thing—it was just cool.

PLOSZCZANSKY: Between takes, the guys would start goofing around, throwing the ball around. Assistant directors would get upset and say, "Knock it off; you guys are gonna get hurt." And they'd all look at him and say, "This is what we do."

BLICKER: I remember going down on the field, hanging out, talking to some of the players, maybe taking a pass or two.

DANZA: We had a lot of nice weather. You couldn't help yourself.

PLOSZCZANSKY: The neighborhood kids would come out and watch through the fence, and after the filming was done they'd be asking for autographs. Anyone and everyone.

DI JULIO: I was like, "I'm not really a Cowboys player; I'm just an actor." They were like, "That's cool too!"
---
HOPE: Tony and I spent an entire day with Mike Vanderjagt, who at the time was the kicker for the [CFL's Toronto] Argonauts, and then had that big brouhaha with Peyton Manning. The three of us just sat in Ivor Wynne Stadium and kicked field goals all day.

MIKE VANDERJAGT (Danza's double): I did all the [on-camera] kicking. So if they needed a field goal to go in, I'd make it. If they needed it to miss, I'd miss it. I can put a ball, generally speaking, wherever it needs to be.

KELLEHER: Anytime we needed a kick, he'd come on.

VANDERJAGT: There were times when I had to wear the big black work boot and actually toe it straight on [as Gorman]. Doug Flutie and I used to compete kicking field goals all the time, and he used to kick it straight on, so I'd done it a couple times with him.

HOPE: Jesus Christ, Mike Vanderjagt has the biggest f---ing leg I've ever seen in my life. The wind was howling from one end to another, so we were kicking with the wind, and he was nailing them from like 60 yards out.
BLICKER: I remember watching [Vanderjagt] between setups, and he'd do this thing where he'd throw the ball on the floor and it'd bounce up and he'd catch it. He had this fluidity to him, this ease of movement, and I was like Wow, that's a pro football player right there.

VANDERJAGT: I auditioned for the backup kicker role [of Mitchell, that went to Hope], and my audition was absolutely horrendous. They asked me to do a couple lines, and I just had no charisma to it.

HOPE: I'd never kicked a football, so the first time we did it, I booted it square into the center's ass. And he hardly even moved. He just turned around and looked at me. I went, "Uh, sorry!"

KELLEHER: Tony was a former fighter, for real. That's how he got into acting.

BLICKER: He had a real athleticism to him.

PLOSZCZANSKY: Not as athletic as I thought he would be. But he was good.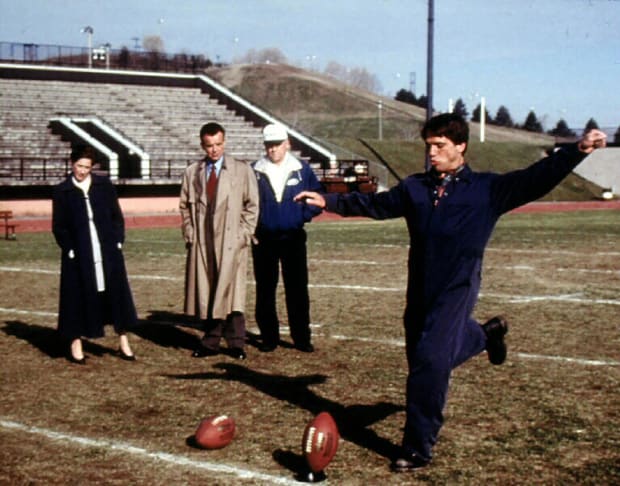 KELLEHER: Tony being Tony, he'd get up at like 4 o'clock every morning, work out for an hour before his 5 o'clock call.

DANZA: I worked my a-- off.

KELLEHER: He really went out and practiced the field goal kicking a lot.

PLOSZCZANSKY: Vanderjagt gave him some pointers of how to line up and take the right steps.
DANZA: You know what I really remember? I kicked a 30-yard field goal, and they were rushing me.

PLOSZCZANSKY: Well, it took him quite a few tries.

KELLEHER: You would've thought he just won the Super Bowl.

DANZA: And I was in a [garbage man's] work boot.

KELLEHER: We got it on camera.

PLOSZCZANSKY: 30? I thought it was 25.

DANZA: We tried to move it to 35, and I couldn't do it.

KELLEHER: [Danza's character] gets headbutted a lot. That was a very physical role, a lot of diving and flipping on the ground.
DANZA: That was when I was of the mind that I could do all my own stunts.

RACKI: Some guy pushes him in a locker, and he goes, "I wanna do it! I wanna do it!" So I said, "Let's try it, work it out, see what you can do. Just watch your head on the shelving."

TUCK: I just thought that Tony was really great on the set, and off the set, and just the tone that he set in general was really, really nice. He carried the film.

DANZA: When I was young, if you could play baseball or football while you were making the movie, that's a pretty good job. Angels in the Outfield was even better, because there I got to pitch.
---
KELLEHER: Because Tony's in shape, we needed to make an adjustment [in the physical contrast of] the relationship between Barney and [one of his Eagles teammates named] Bubba. So we found Jaime [Cardriche], who was 6'10" and 400 pounds and blocked for Barry Sanders at Oklahoma State.

PLOSZCZANSKY: I had to get a special-order helmet made for him.

KELLEHER: The Wonderful World of Disney had really strict standards, so we had to take it down from PG-13. We had one scene, when [Danza and his teammates] snuck out, they went to a strip club. And when Tony hits bottom, and he passes out drunk at a bar, [Cardriche as Bubba] says, almost to the camera, "Drinking never solves any problems." We had to put that in. And the way he said it had some subtle humor too, like almost a wink.

DANZA: Jaime was so great.

HOPE: A riot. A really sweet guy.
DANZA: Then there was something really sad. Jaime died two years after the movie, from complications in a gallbladder surgery. The guy who was pressing me, using me for a barbell. It's just horrible. That broke my heart.

DON WILSON (Dawson): That was my boy. I came to visit him like three times after that. I took him to meet all my family and friends. He was funny.

VANDERJAGT: Donnie Wilson, who's in the CFL Hall of Fame [after a 12-year career as a defensive back and returner with Toronto and Edmonton], he had a speaking part; that was cool.

WILSON: I was in a locker room scene. I headbutted [Danza] and ran out of the locker room. Then me, Danza, we were in the car, singing [after skipping curfew the night before an Eagles game]. Then we was eating some ribs [for a scene in which Danza earns the respect of his teammates by beating Cardriche in a rib-eating contest]. I was trying to help my boy eat.

KELLEHER: They ate quite a few ribs. I just remember wishing I had a little more time to shoot it.
WILSON: We'd do takes after takes, and they need fresh food for every take. I was so doggone full when that scene was done, I didn't want to see another rib.

KELLEHER: There were piles. I think we probably had ribs for our meal that day.

DANZA: I probably still have indigestion from that.

WILSON: Matter of fact, I think I became vegan after that movie.

KELLEHER: Then the locker room stuff, we shot at the Skydome.

KEN DANIELS (male reporter): I was working for Hockey Night in Canada, and I was calling the Sabres-Senators series in the first round of the playoffs. I drove back from Buffalo after [Game 7], slept for an hour or two, went down to the Skydome.

TERESA KRUZE (female reporter): I was at TSN, and my agent gave me a call one day and said Deirdre Bowen was casting a movie, and they were looking for a sports reporter. I said, "What's the title?" They told me. I said, "You've got to be kidding me."
DANIELS: I was in the scrums with Tony Danza. Because it was Tony Danza, and I was actually right there with him, I was a little nervous. I didn't want to f--- it up.

KRUZE: I had two scenes. One was in a Toronto waste management yard, and I was in a pack of reporters waiting out by Tony Danza's garbage truck. My line was to get him to demonstrate how he developed these wicked leg muscles by kicking the lever on the [back of the] truck.

DANIELS: My stuff maybe only took an hour. We got out of there around dinnertime.

KRUZE: My second scene is after he's kicked the winning field goal against Washington, and teammates are starting to like him. I ask Tony a question, and [Cardriche as] Bubba bursts through the two of us to congratulate Tony. I got hit.

KELLEHER: It was a really fun thing for me, going out to [ESPN headquarters in] Bristol [Conn.] and shooting with Boomer [Chris Berman]. He's a legend. At the time, I think he was dealing with throat issues.

STOLLER: We rode down to Hamilton [from Toronto one day] to watch Tony Danza's character play football. It was fun, like a trip within a trip.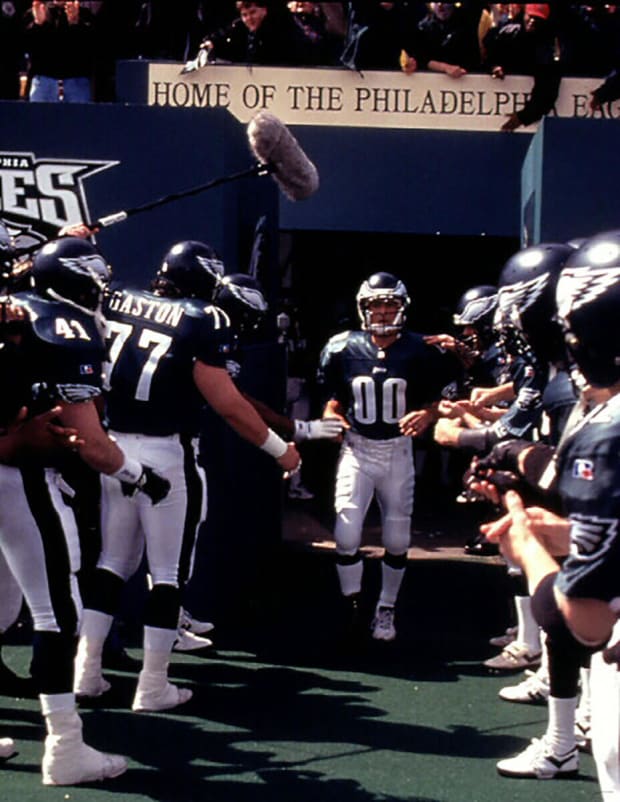 KELLEHER: We had no money for extras. We barely had enough for the teams and the refs. But then I remembered at Giants Stadium, there's basically that big wall behind the field. So we just built a big wall up, had a couple guys waving their hands, making No. 1 fingers, and didn't really need extras.

VANDERJAGT: If we're coming out of the tunnel, they'd have 50 people in the stands, and the rest of the stands would be completely empty.

TUCK: It always makes me laugh when I see these in-the-stands scenes, because 99% of the time you're not reacting to something that's going on the field.

BLICKER: It's an art in itself, cheering. You can't just cheer the whole time. You have to have levels and subtleties in the cheering.

TUCK: We'd get directions like, "Oh, he's just made a field goal," and we were reacting more to a megaphone more than anything that was happening in front of us.

BLICKER: It had a real crowd feel.
KELLEHER: I'm a Giants fan, I grew up in New York, so my only experience [with the Eagles] was seeing them twice a year on TV. But just knowing their reputation—with throwing snowballs at Santa, and that kind of thing—those Philly fans are intense.

HOPE: The locker room speech, Tony really put his all into that. He was working.

KELLEHER: In the end, that final speech, about the working class, they're the real heroes.
---
The Garbage Picking Field Goal Kicking Philadelphia Phenomenon premiered in the 7 p.m. Eastern slot on Sunday, Feb. 15, 1998, opposite 60 Minutes, the Nagano Winter Olympics and, for a hilarious half-hour, the "Das Bus" episode of The Simpsons. All three of these programs out-drew the Danza-led, made-for-TV movie, which received a rating of 8, a share of 13, and less-than-stellar reviews.
"Very young football fans may get a kick out of it," wrote Newsday. "Get it? That's about the level of humor achieved in this unphemonenal Philadelphia story."
Added The Hollywood Reporter: "This 'Wonderful World of Disney' film is remarkable for two reasons. First, the film about a garbage collector who becomes a kicker for the Philadelphia Eagles has one of the longest titles in TV movie history. Second, it depicts an athlete signing a lucrative NFL contract without an agent. Clearly, this is a fantasy, and a good one at that."
Concluded Variety: "Yet as contrived as this whole enterprise proves to be, Danza is such a lovable lug that he manages to overcome a plethora of plot sins and keep us tuned, if only for the sake of the kids in the house. … Thank God for those Who's the Boss? residual checks."
KELLEHER: This movie aired twice on ABC, and then it was on Disney Channel for a couple months, but it never came out on DVD. They only put out a VHS, very limited.

DANZA: I remember watching it. I knew I had to see this broadcast.

KELLEHER: We didn't have any screenings. They didn't even have a friends and family screening. It just aired.

HOPE: I don't know if I've watched it start to finish.
KELLEHER: For a while there, the only place you could get it was on eBay.

KRUZE: I keep a copy in my office, on my happy memory bookshelf.

VANDERJAGT: I have a copy of it, but I have to get it converted.
STOLLER: I remember playing it for an ex-girlfriend. There was one thing, sort of doing a stunt with the garbage truck going, and I had to jump onto it and hang on. And she was laughing at me, like, That's your idea of a stunt? I thought it was cool.

DANZA: I don't know if my daughters have ever even seen it. I know my son watched it. I gotta get my grandsons to watch it.

KRUZE: I really loved it. It's a typical Disney movie, but it's so totally enjoyable.

DANIELS: My kids loved it. That meant the world to me.
DANZA: I hear about it, invariably. That's one of the ones people talk to me about, like if I get fan mail.

STOLLER: Only once has someone come up to me and said, "Oh yeah, I love that movie." Usually people say, "I saw you on [Everybody Loves] Raymond or Seinfeld."

DANIELS: I was at Joe Louis [Arena], it's my first year with the Red Wings in '97–98, and Carolina was in town. Jeff O'Neill skates by me during their morning skate and goes, "Hey, I saw you on TV last night." I go, "You did?" He said, "That movie about the garbage-picking field goal guy!" First words he ever said to me.

VANDERJAGT: There might be one or two fans that you'll be getting an autograph from and they'll go "Hey, how about the garbage picking?" And I'm like, "Whaaat? How do you know?"

DANIELS: Once or twice a year, I'll get a check for a whole five bucks and 30 cents Canadian.
VANDERJAGT: It's just a cool thing to have as something you've done in your life. I'll tell anybody who will listen that I was part of The Garbage Picking Field Goal Kicking Philadelphia Phenomenon.

HOPE: I love the title now. I thought it was totally silly, that there's no way they'll ever keep it.

DANZA: It was tough to get the whole thing on the video tape cover.

KELLEHER: Maybe someone at Disney reads this and puts it on Disney+.